When Selling Becomes an Education
Author: Ellen Cline; Published: Dec 20, 2009; Category: Business Writing, Message Simplicity; Tags: Business Writing, Persuading Readers, Selling; No Comments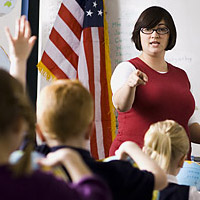 When marketing new products and services, sometimes you need to provide some education. Do your potential customers know much about what you're selling?
You might just be selling something that's very similar to what's already out there. If so, you've just got to figure out your unique selling point, something that differentiates you from the others. It might be real, or just something nobody else is touting right now. (That's not what we're going to talk about here.)
But if you've developed some new technology or a whole new service category, you've got a more serious education task. You might have to teach people what it is you've come up with, what it does, and why they need it. This all needs to happen before anyone even thinks of buying.
If your company has the first vertical cavity surface emitting lasers, you might need to tell people what they are, and how they can be used in practical applications. If you're the first to turn recycled beer bottles into growing media for hydroponics, the benefits of that vs. the media that's been used for years might need to be explained. Or if you're the first to purify water with a new mixed oxidant technology, you might want to tell people why that's a better way to clean water.
You're asking people to change, so you'd better have some pretty good reasons why.
When starting a new marketing project or program, make sure to think about the informational or educational aspects. For scientists and engineers, it's sometimes hard to imagine that people don't know what you're talking about. But if these people are not your peers, but your potential customers, and what you're selling really is new, then yes, you're going to have to explain it. (Remember, you know too much.)
First decide, am I selling a new product or service? If so, think about educating, then selling.
If you're just selling more of the same, you've got a different challenge: differentiating yourself.