Author: Ellen Cline; Published: Oct 26, 2011; Category: Business Writing, Communications Tools; Tags: Facebook, promoting nonprofits, social media; No Comments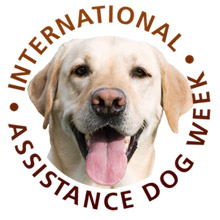 You might have read about me blogging for the dog in the past. This spring and summer I was using Facebook for the dogs, specifically for International Assistance Dog Week.
Along with IADW founder, Marcie Davis, we started a Facebook page to help promote IADW 2011, held annually in August. At first I felt like we were just talking to ourselves, since nobody knew about the page or "liked" us. But once we started promoting the Facebook page in our e-newsletter and website, we began to build our audience, and the page became an important part of our overall communications.
As the time for IADW approached, the posts on the page were more and more about global events participating organizations were presenting, and links to media coverage of IADW. Now that IADW 2011 is over, we continue to post every day, but the posts are more about general assistance dog topics. As we move into the new year, we'll start promoting next summer's IADW, along with general assistance dog information.
More and more, there are others joining in the conversation. The IADW page is evolving as a place where people can not only find news, but also promote their assistance dog events, ask questions about assistance dogs, share information, and connect with others.
From zero about six months ago, we've built up the IADW page to now having almost 800 likes. I think a lot of our growth has to do with:
Posting consistently, year round
Sharing posts from related organization/topic pages
Promoting the page through emails and other communications
Having friends' pages invite their followers to like us
Facilitating comments and discussion when needed
What has been great, too, is having people start to see the page as theirs, posting their own news and events, instead of just waiting for us to post. And when Facebook luminaries like Surf Dog Ricochet, with more than 50,000 "likes," ask their friends to like IADW on Facebook, well, that doesn't hurt either.
Some relatively new Facebook features are also helpful, including Insights, the tagging feature, and recommendations on who to follow. Then there are the old faithful features, like comments.
Insights gives us statistics about people visiting the page, data which might be of interest to potential corporate sponsors, as it shows visitor numbers and demographics.
Tagging lets us share information with like-minded individuals and organizations, and have our posts show up on their pages, helping to bring awareness of IADW to more people.
The recommendations from Facebook on who to "like" is similar to a feature that's been on Twitter for a while. It can be very useful in turning up pages we might not have known about.
Comments let IADW friends interact with Marcie Davis, IADW founder and assistance dog author and expert, and with each other.
This was the first year IADW was celebrated internationally, and Facebook is one way for this nonprofit event to reach people globally, with the only expense being time.
Author: Ellen Cline; Published: Dec 6, 2010; Category: Business Writing; Tags: Business Writing, promoting nonprofits, Public relations; No Comments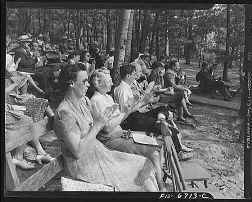 I attended a symposium on the creative economy recently. Because I am part of the communications team and do PR for the Church of Beethoven, I was particularly interested in hearing from the professionals taking part in a panel discussion about the creative consumer.
Who are these people and how do you attract them?
Sophie Martin, of Sophie Martin PR, said one of the main audiences is someone she calls "Elaine," an empty nester who now has the time and money to attend art and theater events. She is college educated and has been exposed to the arts. Elaine wants to support the arts and she wants to attend with her partner, friend or a group with whom she can discuss the event.
Then there's "Nate," a young man who has an interest in bonding with his male friends or getting lucky with a date. He has different expectations than Elaine. Nate wants to have new experiences and topical subjects to talk about.
Along with their hopes for arts and entertainment events, they both have concerns. Elaine is afraid of dangerous situations or driving at night. Nate is worried about unexpected costs. He wants to be clear about what food or parking costs because he doesn't want to look bad in front of his friends.
Chantal Foster, a web architect, said she sees people trying to launch an advertising campaign to everyone, which of course doesn't work. She asked how arts organizations can better focus and identify their audiences.
Martin replied that you can go see your colleagues and see who is showing up at their performances, or even look at other cities similar to yours and see what they're doing. But she said one of the best and most inexpensive things an organization can do is to survey their existing audience. Talking to them gives you a window on who else is out there and how to reach them.
One more point Martin made: Your biggest competition is everything and nothing. It's all the other arts and entertainment options and it's people just sitting at home.
Hakim Bellamy, a poet and musician, added that your "competition" is your audience, too, so collaborate and work together.
Hearing all this I got some new ideas but also confirmation that some of the things we're doing at the Church of Beethoven are the way to go.
We ran a survey for the Church of Beethoven audience members not long ago. We had a very good response rate and now need to more systematically analyze the information we collected. I'm looking forward to seeing what we can learn from the results.
Author: Ellen Cline; Published: Aug 27, 2010; Category: Editing and Proofing; Tags: blogging, Persuading Readers, Point-of-View, promoting nonprofits, Public relations; No Comments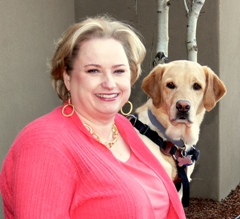 This summer I haven't written for my own blog at all. I've been busy with a variety of projects, but the one that was the most involving, and fun, was National Assistance Dog Week.
Yes, I really was blogging for the dog: Whistle, my client Marcie Davis' assistance dog, to be exact. Just like his partner, Marcie, that dog is an overachiever. Being the co-host of the Working Like Dogs show on Pet Life Radio just wasn't enough. He also had to start blogging. But he needed a little help from me and Marcie to pull that off.
I wasn't just blogging for the dog; I was helping Marcie promote National Assistance Dog Week to individuals and organizations around the country. We put together a website, www.assistancedogweek.org, with Evolution Web, promoted NADW and the website, posted events being held in various states and organized our own events here in New Mexico.
We partnered with Assistance Dogs of the West and got Governor Bill Richardson to sign a proclamation, had an Assistance Dog Fair at Zoe & Guido's Pet Boutique, and received press coverage for these events.
Then we got Betty White and Ali MacGraw to be guests on the Working Like Dogs show in honor of National Assistance Dog Week. Having celebrity guests brought lots of attention to Marcie's show, and to NADW. Since then, I've also helped Marcie contact and book animal issues reporter Jill Rappaport from the Today Show, and entertainer and guide dog partner, Tom Sullivan.
I've been involved with helping my amazing client, Marcie Davis, with a number of her projects. She does so many different things, it makes my head spin. Besides Working Like Dogs and National Assistance Dog Week, she has a nonprofit called Soulful Presence and a company called Davis Innovations. All the work these organizations do is to help people and animals, both locally and globally.
Marcie is ceaseless in her efforts for others. But despite all the work she did, and does, nobody really knew about it. I'm trying to help her get more attention for her causes and projects, in hopes of building awareness and enabling her to be able to do even more good.