Attracting the Creative Consumer
Author: Ellen Cline; Published: Dec 6, 2010; Category: Business Writing; Tags: Business Writing, promoting nonprofits, Public relations; No Comments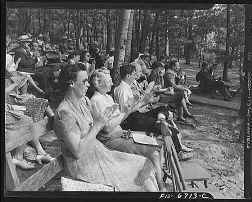 I attended a symposium on the creative economy recently. Because I am part of the communications team and do PR for the Church of Beethoven, I was particularly interested in hearing from the professionals taking part in a panel discussion about the creative consumer.
Who are these people and how do you attract them?
Sophie Martin, of Sophie Martin PR, said one of the main audiences is someone she calls "Elaine," an empty nester who now has the time and money to attend art and theater events. She is college educated and has been exposed to the arts. Elaine wants to support the arts and she wants to attend with her partner, friend or a group with whom she can discuss the event.
Then there's "Nate," a young man who has an interest in bonding with his male friends or getting lucky with a date. He has different expectations than Elaine. Nate wants to have new experiences and topical subjects to talk about.
Along with their hopes for arts and entertainment events, they both have concerns. Elaine is afraid of dangerous situations or driving at night. Nate is worried about unexpected costs. He wants to be clear about what food or parking costs because he doesn't want to look bad in front of his friends.
Chantal Foster, a web architect, said she sees people trying to launch an advertising campaign to everyone, which of course doesn't work. She asked how arts organizations can better focus and identify their audiences.
Martin replied that you can go see your colleagues and see who is showing up at their performances, or even look at other cities similar to yours and see what they're doing. But she said one of the best and most inexpensive things an organization can do is to survey their existing audience. Talking to them gives you a window on who else is out there and how to reach them.
One more point Martin made: Your biggest competition is everything and nothing. It's all the other arts and entertainment options and it's people just sitting at home.
Hakim Bellamy, a poet and musician, added that your "competition" is your audience, too, so collaborate and work together.
Hearing all this I got some new ideas but also confirmation that some of the things we're doing at the Church of Beethoven are the way to go.
We ran a survey for the Church of Beethoven audience members not long ago. We had a very good response rate and now need to more systematically analyze the information we collected. I'm looking forward to seeing what we can learn from the results.