Author: Ellen Cline; Published: Aug 27, 2010; Category: Editing and Proofing; Tags: blogging, Persuading Readers, Point-of-View, promoting nonprofits, Public relations; No Comments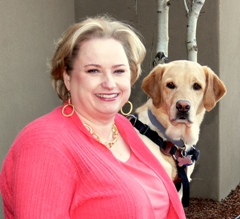 This summer I haven't written for my own blog at all. I've been busy with a variety of projects, but the one that was the most involving, and fun, was National Assistance Dog Week.
Yes, I really was blogging for the dog: Whistle, my client Marcie Davis' assistance dog, to be exact. Just like his partner, Marcie, that dog is an overachiever. Being the co-host of the Working Like Dogs show on Pet Life Radio just wasn't enough. He also had to start blogging. But he needed a little help from me and Marcie to pull that off.
I wasn't just blogging for the dog; I was helping Marcie promote National Assistance Dog Week to individuals and organizations around the country. We put together a website, www.assistancedogweek.org, with Evolution Web, promoted NADW and the website, posted events being held in various states and organized our own events here in New Mexico.
We partnered with Assistance Dogs of the West and got Governor Bill Richardson to sign a proclamation, had an Assistance Dog Fair at Zoe & Guido's Pet Boutique, and received press coverage for these events.
Then we got Betty White and Ali MacGraw to be guests on the Working Like Dogs show in honor of National Assistance Dog Week. Having celebrity guests brought lots of attention to Marcie's show, and to NADW. Since then, I've also helped Marcie contact and book animal issues reporter Jill Rappaport from the Today Show, and entertainer and guide dog partner, Tom Sullivan.
I've been involved with helping my amazing client, Marcie Davis, with a number of her projects. She does so many different things, it makes my head spin. Besides Working Like Dogs and National Assistance Dog Week, she has a nonprofit called Soulful Presence and a company called Davis Innovations. All the work these organizations do is to help people and animals, both locally and globally.
Marcie is ceaseless in her efforts for others. But despite all the work she did, and does, nobody really knew about it. I'm trying to help her get more attention for her causes and projects, in hopes of building awareness and enabling her to be able to do even more good.