Author: Ellen Cline; Published: Jan 21, 2010; Category: Business Writing, Message Simplicity; Tags: interviewing, notes, organizing information, translating technical information, writing; No Comments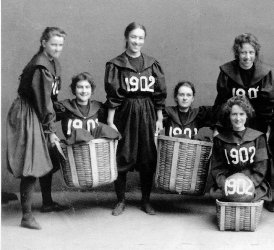 Way back at the dawn of time, I went to college. I did not major in geology, biology or computer science. I majored in English.
I was regularly told by my father and others how worthless this was. Why bother majoring in English unless I wanted to be an English teacher? Wouldn't it be better to major in something practical, like business?
Over the years, however, I've come to appreciate my Liberal Arts education. For one thing, it teaches you to think. Since I've ended up helping people with their marketing messages and materials, being able to think is a good thing.
Organizing thoughts in a way that others can understand is even better. In fact, it's a very useful skill. Here's why.
Most people can tell me all about what they do. They do it well; they know their stuff and sound great. Of course if you transcribed and analyzed what they told me, you'd see that their thoughts are scattered, and not always in a logical order.
That's normal.Translating spoken information into written form generally takes a little work.
But here's the beauty of interviewing someone and taking copious notes. After the meeting I can organize the notes, grouping bits of information by topic and concept and voila, suddenly the person is not only brilliant to listen to, they also look brilliant in written form, whether it's on the web or on paper.
Once, after a scientist told me all about his very technical product and I seemed to understand him, asking semi-intelligent questions, he asked me: What was your major? He just couldn't believe that I was grasping this technical information without an advanced scientific degree. How could a mere English major do this?
But here's the deal. This was our third meeting and I was going back and reading up in between each session. I was reviewing the notes and doing research. And I was grouping and organizing the information to make it easier to understand.
So the point is: It's not about my lack of a science degree, it's about having the skills to organize information no matter the topic. It's about listening and categorizing and coming up with ways to present what you do so your customers will understand it.